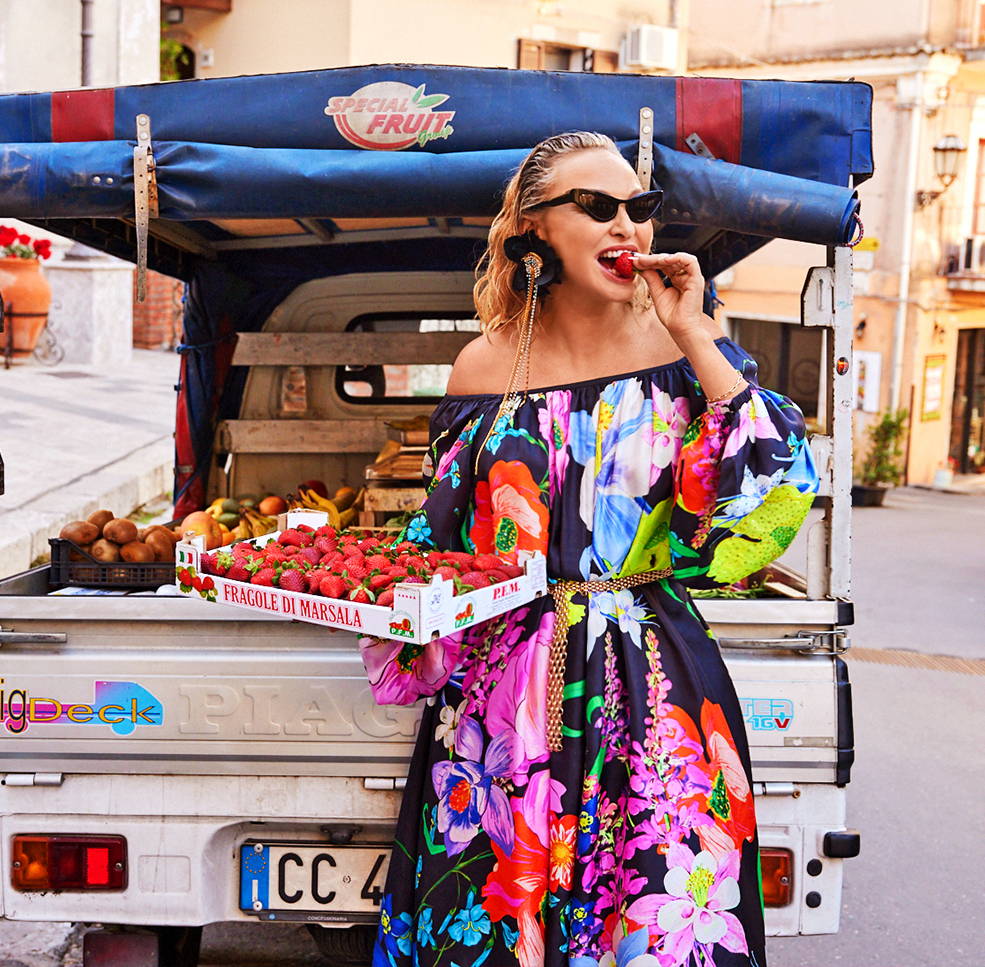 ---
Queen Milla's wanderlust heart has led her to many corners of the globe. Twice a year, she heads off in search of new ideas and unique experiences to inspire each collection. She immerses herself completely into each new culture and all that it represents: textiles, music, food, culture and daily life, returning to Sydney with over 40,000 images and hours of footage to start the design process with her in-house artisans. This year, she jetted off to soak up the Sicilian sunshine and savour a little la dolce vita in Taormina, Sicily.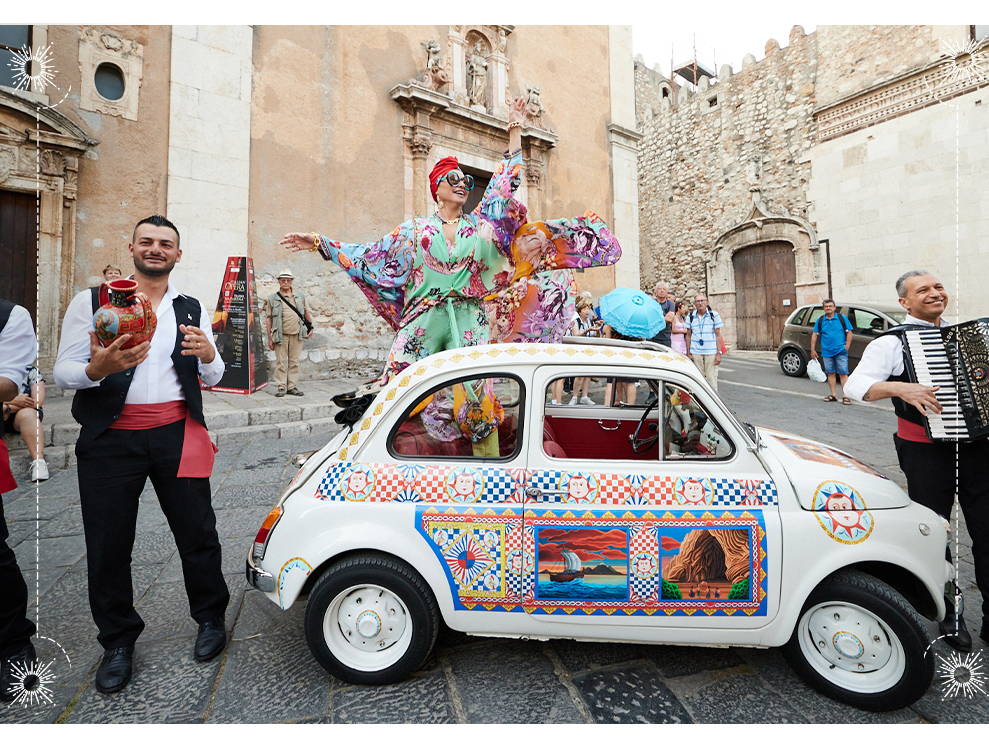 We landed in Taormina, heads swirling with the scent of fresh espresso and ripe lemons, eyes bright with the early summer sunlight, which bounced off red geraniums and red roofs alike.  
Still groggy with jet lag but eager to explore, we savoured an early breakfast overlooking the sparkling azure waters of the Sicilian coastline. We wandered to the gasp-worthy Villa Sant'Andrea, before eventually surrendering to the pull of the ocean and ensconcing ourselves on the soft, white sand to nibble on fresh prawns, buffalo mozzarella and cherry tomatoes pulled ripe from the vine. Afternoon saw us heading to Bam Bar for gelato, to stretch our legs and explore a little more.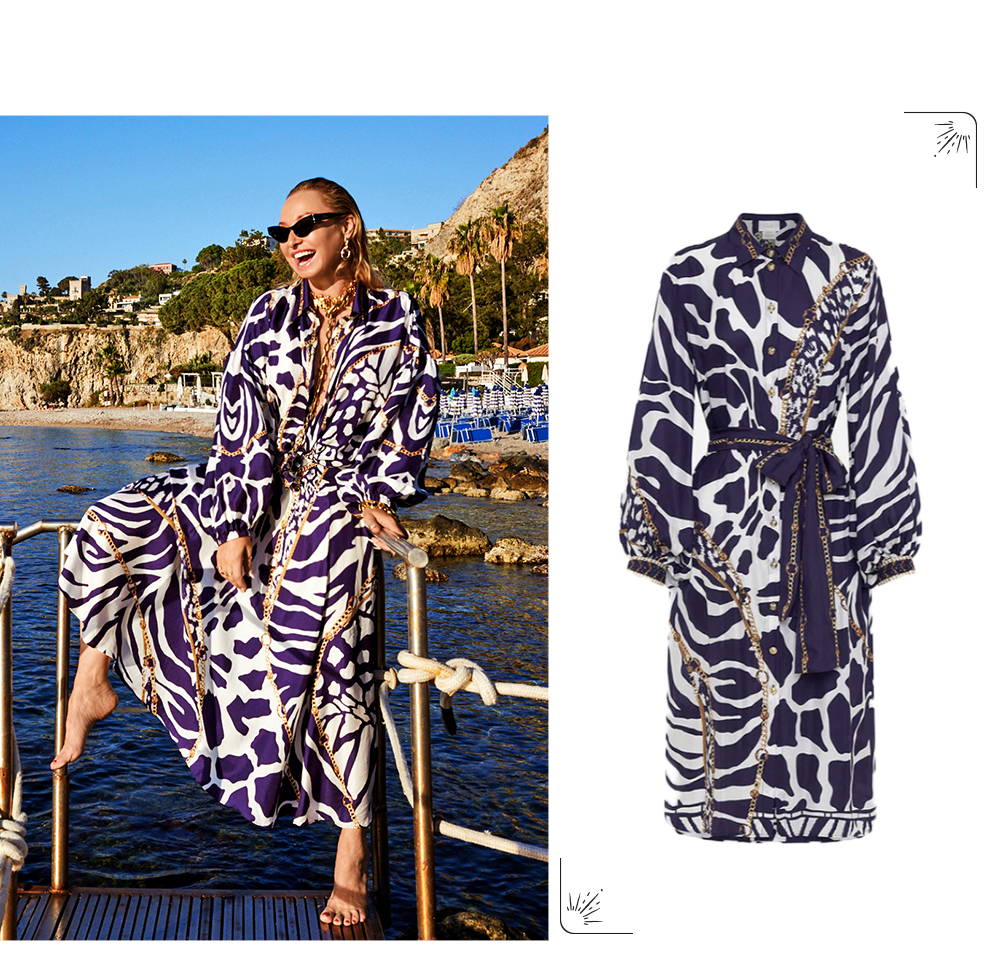 The next day, refreshed after a good night's sleep and with the taste of espresso still fresh on our lips, we stumbled upon a quintessential aqua Vespa just outside the doors of our villa and couldn't resist capturing a few shots in some of our favourite pieces.  
In the heart of town, we discovered the enchanting Teatro Antico Tao Taormina, the remains of an ancient Greco-Roman theatre with awe-inspiring views of Mount Etna. Despite the unusually gruff security guard, we managed to surreptitiously capture a few happy snaps for JP before they shooed us away.  
Later, high atop Taormina at the Grand Hotel Timeo, we watched the sun sink slowly into rusty red rooftops and lush green gardens alike, its delicate dusky hues punctuated only with the occasional cloud and the distant glow of lava erupting from Mount Etna.  
With the sparkling Sicilian sunset still swimming in our heads from the night before, we awoke early the next day and headed to Isola Bella to capture a few shots at first light.
Ravenous after our early morning escapade, we devoured piping hot pizza for breakfast and took to the ocean to cool off.  
Salty, sun-kissed and barefoot, we piled into a tiny Fiat 500 and headed for the Taormina hills. Pausing briefly in the town square for a few photographs, we found ourselves in the midst of our very own Italian fairytale: a band began playing, clustering around us as we moved to the music, and before we knew it, a crowd had gathered to witness the moment. What could we do, but smile and wave? 
Eventually resuming our hilltop trek, we wound our way through picturesque hilltop towns, stopping at Chiosco Della Rocca, a bar halfway up to sip Aperol with the locals before eventually arriving at Castelmola, the town at the top of the mountain. 
Giddy with the day's events, we needed to celebrate. We sought out secret bar the Morgana Lounge Bar, hidden in a back alley, and a favourite haunt of artists, poets and bohemians, dancing late into the night.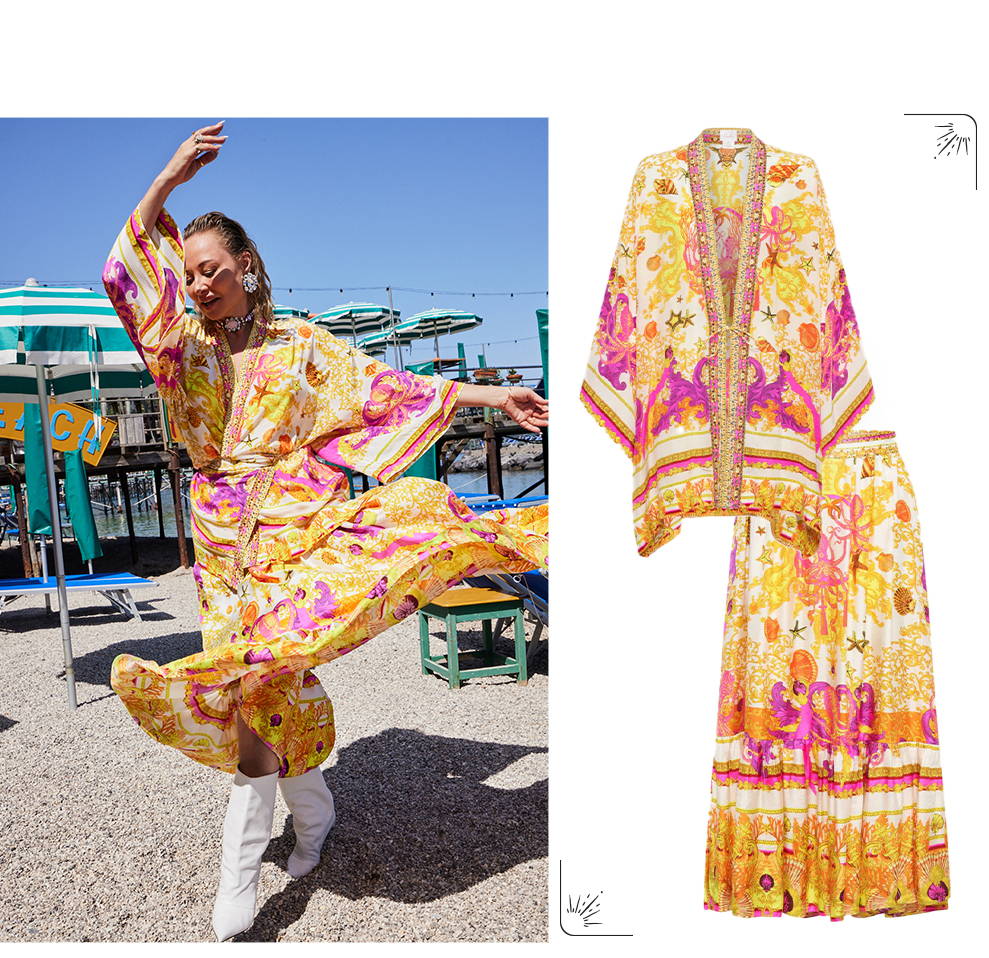 We rounded out our time in Taormina seeking fresh inspiration at local vintage stores and antique jewellers. As the perfect end to the perfect day, we managed to secure an invitation to visit with a local artist at his exquisite home, which we'd been silently worshipping from afar and yearning to visit.  
Passed down through the family, each generation adding their own artistic touches, the home positively sang with artisanal touches and hand-painted details: bronze door-knockers, hand-painted playing cards, traditional Sicilian sculptures, intricate coral embellishments at every turn.  
We left Taormina hearts full, creativity rekindled, souls refreshed. 
Next stops: Syracuse, Noto and Naples.