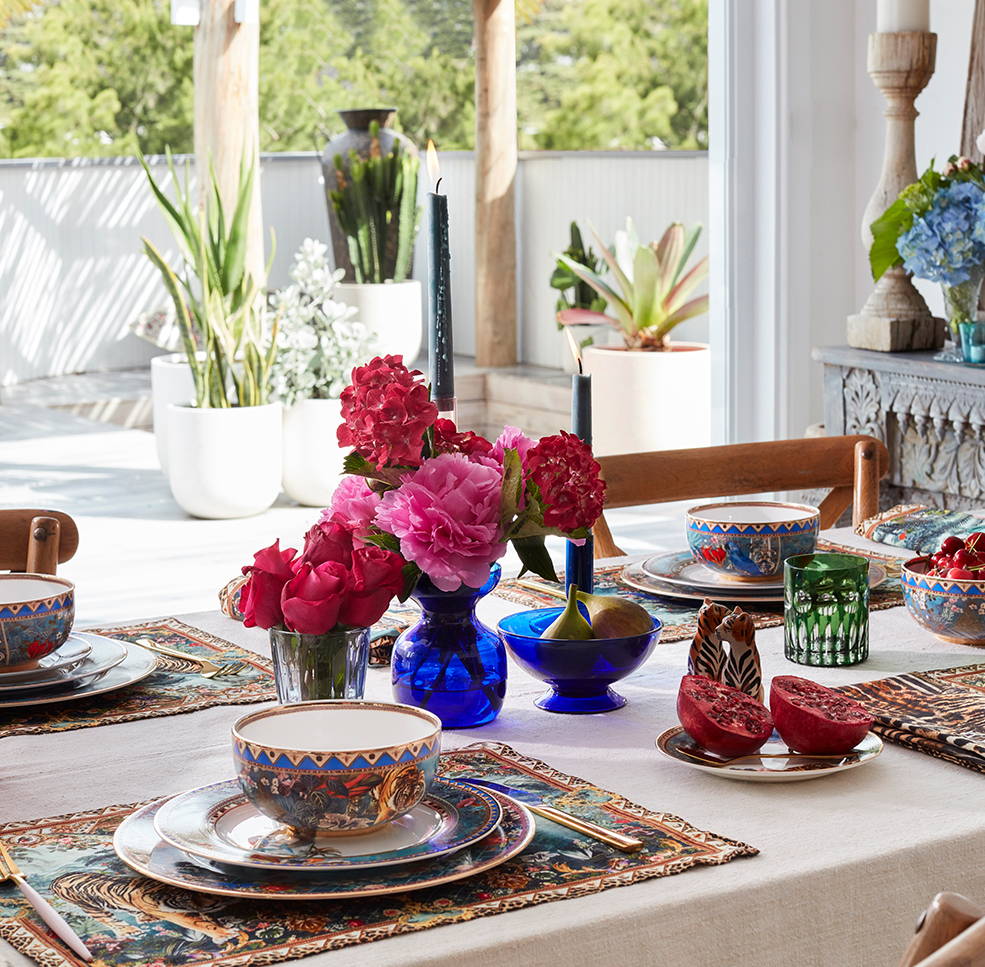 ---
Dining outdoors, particularly during the holiday season, holds a certain kind of enchantment. Here's how to host the ultimate soirée under the stars.
Is there anything more magical than gathering the people you love around a table to eat, drink and be merry? Only if it's done under the stars. From sipping golden-hour drinks to sharing drawn-out dinners that end with dancing in the moonlight (and some well-placed candles*), there's nothing more enchanting that an alfresco dinner party.



SET THE SCENE
Depending on your vision for the overall scene, your outdoor dining setting, combined with the perfect (or not-so perfect) tableware, really does set the tone for the entire evening. For something elegant and over-the-top, a formal dining table in the middle of a country garden, glistening with crystalware and silver candelabras will surprise and delight guests, while a long low table and piles of big soft CAMILLA cushions* creates an idyllic situation for friends to instantly unwind and recline. Alternatively, a rustic wood table covered in a linen table cloth will add a simple, statement texture. 
Any setting for an alfresco soirée can then be elevated with towering bunches of flowers or potted herbs than can then be used to garnish drinks, an abundance of candles*, an eye-catching table runner and beautiful tableware. Extravagant setting combinations, like CAMILLA's Night Waiting For Day dinner set*, combined with matching luxury napkins and the 'good' silverware will add to the overall experience. To keep it relaxed, mix and match dinner sets and even napkins, for a touch of the exotic and an 'anything goes' vibe.
When it comes to entertaining, it's all about the prep. Who wants to spend the entire night in the kitchen basting and drizzling? Not us. Start the night with something simple that people can graze on when they arrive, so a big cheese board or charcuterie board prepared ahead of time, or some bowls of nuts, chips and dips, will give guests something to snack on while they're sipping cocktails. Then, for the main event, opt for "no pressure" dishes that don't require a lot of time and energy and won't spoil if they sit on the table for a few extra minutes as your guests get settled. Consider serving food feasting-style, in dishes to share that are placed down the centre of the table.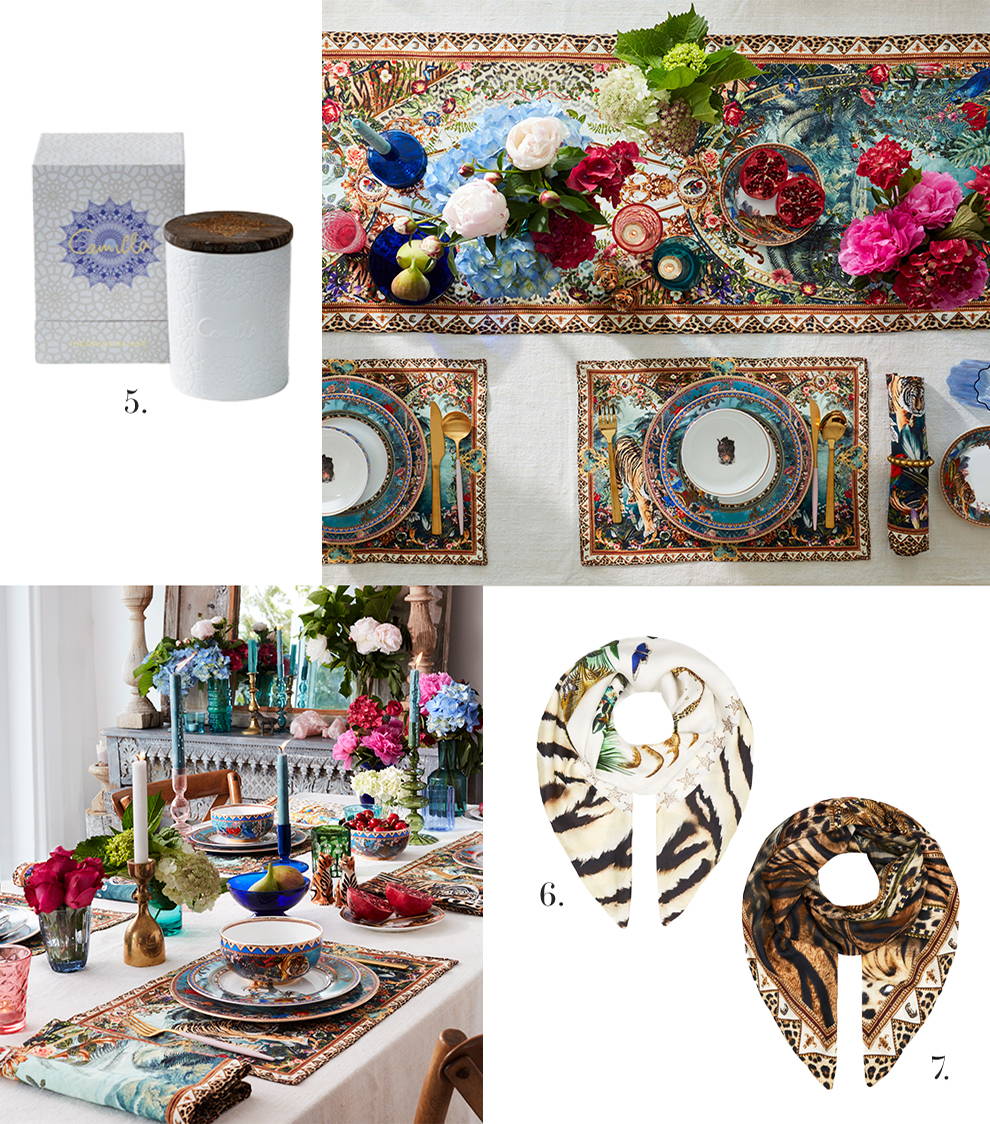 The right kind of lighting is crucial for creating ambience outdoors. Once it gets dark, too little lighting will make the event feel more sombre and subdued, so add some sparkle with a canopy of fairy lights overhead – it'll feel like twinkling stars in the sky. A chandelier or a handful of lanterns hung over the table will add depth and character, while hurricane lamps provide warmth. Add lots of CAMILLA candles* on the table to elevate the romantic atmosphere. 
Also, an alfresco dinner isn't complete without some gorgeous greenery, so include some potted plants and flowers for colour, texture and charm. Cleverly placed foliage can also help define spaces and provide privacy, despite being outdoors. Play around with different heights, textures and scents that can trigger emotions and sensations. And don't forget the tiki torches and citronella candles to keep pesky bugs, who are most definitely not on the guest list, at bay. 
Consider the weather when dining outdoors and have cashmere throws or CAMILLA scarves for each guest if it gets a little nippy, or folding fans in case it's too hot. Also, having sunscreen on hand for guests isn't just thoughtful, it's smart. Ice buckets with wine at each end of the table, or a nearby drinks trolley or serving space is convenient for you and your guests as it means you won't be dashing in and out of the kitchen every time someone needs a top-up. And create a great music playlist for instant party ambience. Place a couple of wireless speakers in the garden and use your smartphone to control the music so you don't miss any table talk.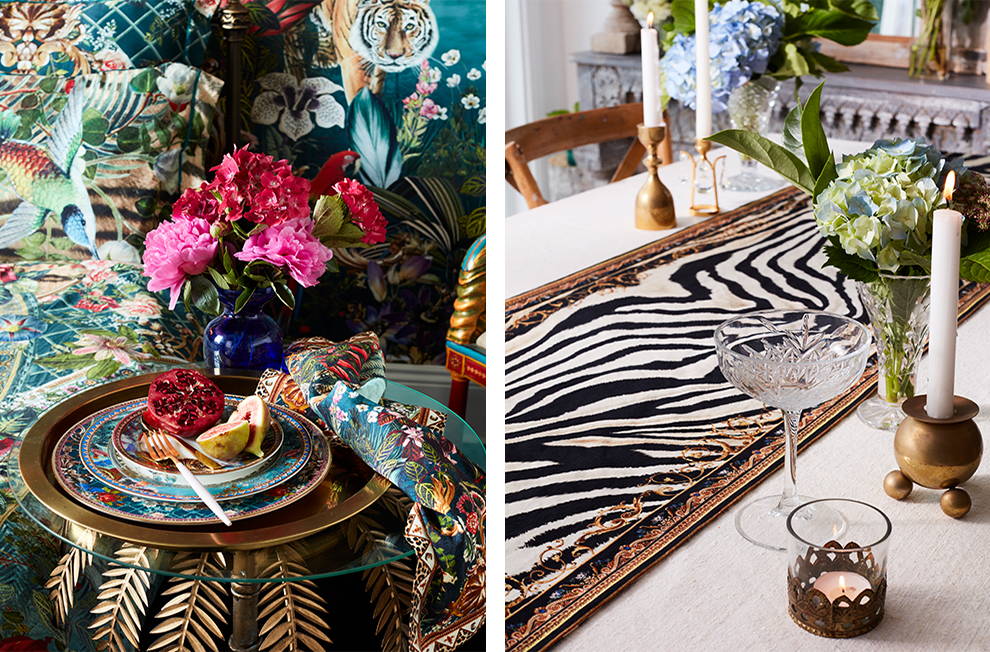 GO BIG FOR THE GRAND FINALE
Last but never least, it's time for dessert because no dinner party is ever really complete without it. Dessert elevates all meals however simple or relaxed they might be. Baking not really your thing? You could simply buy a cake or a pavlova base and load it with berries and whipped cream, there is certainly no shame in that. Alternatively, there's always ice-cream, bought from a decent gelateria and served in cones, which will give your party the ultimate alfresco charm.

SHOP HOME




*Available on Australia E-Boutique only.